Good morning again from Vegas. Day 3 of the conference was a whirlwind of new information and new people. Some of the presentations were very detailed, while others were more basic. I was happy to find out we had registered several new members of IMA as a result of our free seminars for ASD/AMD members on "Getting Started in E-Commerce"! Great job everyone!
The first presentation was on Market Intelligence, by Tim Williams from QL2. QL2 is a company that has helped many very large, well known retailers with market intelligence in order to increase their market share.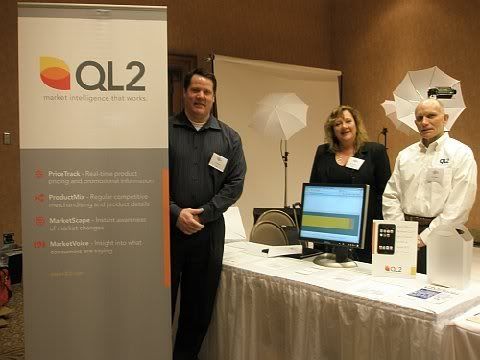 Market Intelligence is information relative to the markets you are trying to penetrate. This consists of information you gather inhouse as well as information gathered by third parties. We learned how and why to monitor our competitors as well as how to monitor brand perception. The very detailed information will help us be more competitive in the fast changing e-commerce world.
The second presentation of the day was "Analyze your Business Using Web Statistics" by Sagerock and Engine Ready. They gave a lot of useful information about analyzing your CPC campaigns in order to increase your conversions while decreasing your marketing budget. After hearing all that's involved in managing your own SEO and CPC ad campaigns, I've decided it might be best to hire a professional to do this, unless you are a numbers person and really like working with statistics.
I missed the Endicia Presentation on the USPS changes, however I did talk to the Endicia rep for a little while and found out that the post offices just received the new, larger, flat rate box this week. So if you are interested in these boxes, check with your Post Office as they may have received them.
During lunch we attended round tables with the companies of our choice. This was an awesome opportunity to sit with a representative and ask questions specific to our businesses, as well as make valuable contacts.
The next presentation was "Amazon Best Practices for Selling Online", which was a good, basic overview of the third party selling opportunities that Amazon offers. These include Marketplace, FBA (Fulfilled by Amazon) and Webstores. Amazon stated that 26% of the total units sold on Amazon last year were by 3rd party sellers. Third party sellers are considered a significant and important part of their business.
The next presentation was Expanded Seller Protection by Paypal. I didn't attend this but did talk to two Paypal Reps. One thing I learned, that I didn't already know from the announcements, is that Powersellers will be protected against a fraudulent payment if they can show they shipped the item to the address on the Paypal Payment. The key word here is "shipped". However, INR's will still require proof of delivery.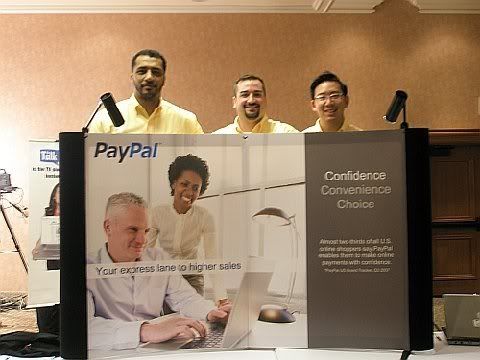 Next up was a Q&A with eBay. Many issues were raised about feedback, Best Match and UPI from the audience. What I understand from what the eBay reps said is that all of these changes are evolving. eBay is monitoring the changes to see if they have the desired effect. If they do not, or they have unexpected undesirable effects, they will make changes to the changes.
The last presentation was given by Brian Kane of Microsoft "Microsoft Office – Interesting Elements of Office Relevant to the On-Line Merchant".
Brian spoke about their small business website available at www.officelive.com which offers free basic websites. In addition, they now offer a program that will list both to eBay and to your officelive website. This includes a robust email marketing program as well. The presentation included many slides on the new Office 2007 products. It was interesting to see all the changes and new features now available in the 2007 version.
The last session of the day was the IMA Business Meeting hosted by Steve Grossberg, President of IMA. Steve pointed out that IMA has reached its 16 month birthday. He thanked the Events committee for all their work in making the conference a reality, as well as all committee members and Board Members. IMA has just begun, but is gaining momentum daily and every member can be proud of their Association.
The Board of Directors Election was held and 3 new board members were elected:
Kim Wren – Wren Storage
Cathy Aggelopoulos – Visibility Unlimited
Cynthia (Cyn) Lizana – Texcyngoods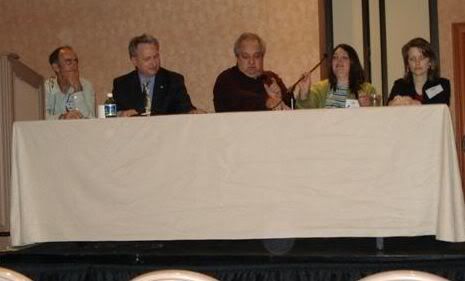 The meeting was adjourned and the Hospitality Suite was opened. We had a drawing for door prizes. All prizes were donated by IMA Members and most of the prizes were items we used in our TalkMarket videos, so there was a wide selection of awesome prizes given away. The Grand Prize was a complete eBay design package, worth $1600, donated by our Hospitality Suite sponsor, Frooition!
Cyn